Diving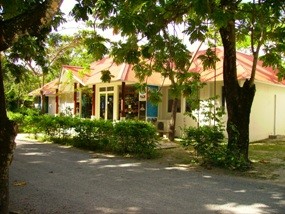 As we are the only Dive Center on Silhouette Island with a marine park around the Diver can expect unspoiled dive sites. For environmental concerns and to give the best service possible we keep the dive groups small. All dives are guided and by boat. The time to reach the dive sites varies from 15min for most of the sites around Silhouette and around 40min to go to North Island.
For your refreshment we are offering you water on the way to the sites and water and small snacks like pieces of oranges and cookies on the way back.
Usually we are going out for diving twice a day and provide night dives on request subject to the weather conditions. In the morning we are offering 2-Tank dive. The advantage for the diver is that we can offer two dives with one boat trip to a very competitive price. In the afternoon the diver has another chance to do a single dive.
For those who are certified Nitrox divers we are offering Nitrox free of charge without any sure charge. Not certified? Find out here how easy it is to become a Nitrox Diver.